This last weekend I decided to try a new cigar. This cigar is a MUWAT (My Uzi Weighs A Ton) Kentucky Fire Cured Swamp Thang. This is put out by Drew Estate as part of their MUWAT line and their Kentucky Fire Cured Sub-line. This is one of the more unique cigars out there due to it's combination of Kentucky Fire Cured tobacco and a dual wrapped wrapper featuring a brilliant green candela wrapper and a fire cured wrapper, the transition masked by the band. The candela imparts a sweeter smoke to the campfire like qualities of the fire cured wrapper. Unfortunately Drew Estate is keeping silent on the composition of the filler and binder. I can assume, through experience that the tobaccos used in this cigar are probably exclusively Nicaraguan. The cigars are manufactured in the Esteli region of Nicaragua in the Joya De Nicaragua factory, the oldest continually operating factory in Nicaragua.
Upon removing the cigar from the cello my first impression is of wood smoke. It has a very strong campfire like smell and a slight earthiness. The cigar lights well and cleanly, the burn remains clean and straight until the end of the smoke. Throughout the cigar there is a flavor of smoke, smoked meat (unusually), and a bit of sweetness, similar to a good barbecue rub that isn't overpowering, just a light touch of sweet on the back of the tongue. I paired it with an unsweetened iced tea. Unlike some cigars I have tried, this one didn't really change much during the smoke. It remained a good, medium to full body smoke, beginning to end. It was neither the weakest cigar I've tried nor the strongest. This is a cigar that won't make you dizzy, but will leave you with a pleasant taste. I don't think it would be my every day smoke, but for a once in a while cigar, it's perfect. I also have a Swamp Rat resting in my humidor for a future smoke.
On to politics. Meghan McCain may have finally realize the reason she is on the View. It's not so she can speak, it's so they can claim to be "fair" because they have a "conservative". After reading about her performance, this is all I could think of.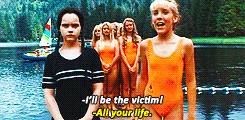 Here is the relevant article.
'View' Shuts Down Meghan McCain After She Brings Up Clinton Funded Dossier
Monday on ABC's The View, things got heated when discussing the breaking news that morning about ex-Trump campaign manager Paul Manafort had been indicted by FBI special counsel Robert Mueller. After announcing the news, the audience cheered as the panel joked that they hoped President Trump would be next. As co-host Meghan McCain brought up Hillary Clinton's funding of the Russian dossier, co-hosts Sunny Hostin and Joy Behar angrily shut her down, insisting that Democrats and Clinton had nothing to do with any Russia collusion.

Whoopi chuckled while announcing the news that Paul Manafort had been indicted by the FBI this morning. The audience roared in approval as The View producers played a fake clip of President Trump being arrested by the FBI.
Tags: cigar, Meghan McCain, view